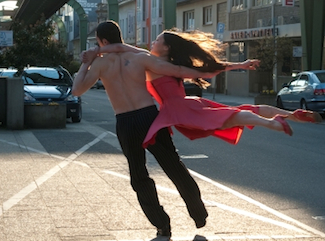 Click below for full line-up.
To purchase tickets or season pass, click on film page "buy ticket" link, then select 8:00pm.
Mon. Dec. 12 @ 8pm
PINA (in 3-D)
Q&A with dance critic Deborah Jowitt
Wim Wender's (Wings of Desire, Buena Vista Social Club) dazzling foray into 3D began as a collaboration with legendary choreographer Pina Bausch, an attempt to re-imagine her dance on the big screen. When Bausch died suddenly in 2009, Wenders forged on, turning the project into a moving tribute to her groundbreaking work with the Tanztheater Wuppertal ensemble. With longtime members of the troupe re-creating classic pieces, PINA delivers an exhilarating journey deep into Bausch's world.
Tues. Dec. 13 @ 8pm
BATTLE FOR BROOKLYN
Q&A with directors Suki Hawley and Michael Galinsky
BATTLE FOR BROOKLYN follows the story of reluctant activist Daniel Goldstein as he struggles to save his home and community from being demolished to make way for a professional basketball arena and the densest real estate development in U.S. history. Along the way, he falls in love, gets married and starts a family while living in a vacated building located at the heart of the project site. Over the course of seven years, Daniel spearheads the movement against the development plan as he and the community fight tenaciously in the courts, the streets, and the media to stop the abuse of eminent domain and reveal the corruption at the heart of the plan.
Wed. Dec. 14 @ 8pm
SEMPER FI: ALWAYS FAITHFUL
Q&A with director Rachel Libert
As a drill instructor he lived and breathed the "Corps" and was responsible for indoctrinating thousands of new recruits with its motto Semper Fidelis or "Always Faithful." When Jerry's nine-year old daughter Janey died of a rare type of leukemia, his world collapsed. As a grief-stricken father, he struggled for years to make sense of what happened. His search for answers led to the shocking discovery of a Marine Corps cover-up of one of the largest water contamination incidents in U.S. history. SEMPER FI: ALWAYS FAITHFUL follows Jerry's mission to expose the Marine Corps and force them to live up to their motto to the thousands of soldiers and their families exposed to toxic chemicals. His fight reveals a grave injustice at North Carolina's Camp Lejeune and a looming environmental crisis at military sites across the country.
Thurs. Dec. 15 @ 8pm
IF A TREE FALLS: A STORY OF THE EARTH LIBERATION FRONT
Q&A with directors Marshall Curry and Sam Cullman
In December 2005, Daniel McGowan was arrested by federal agents in a nationwide sweep of environmentalists involved with the Earth Liberation Front– a group the FBI has called America's "number one domestic terrorism threat." Charged with burning down two timber facilities years earlier, McGowan faced life in prison for his actions. Part coming-of-age tale, part cops-and-robbers thriller, IF A TREE FALLS tells the dramatic story of Daniel McGowan and the ELF. And along the way it asks hard questions about environmentalism, activism, and the way we define terrorism. Buy tickets or season pass here (click on 8:00pm)
Mon. Dec. 19 @ 7:30pm (Note 7:30 start)
BUCK
Q&A with director Cindy Meehl
For Buck Brannaman, the charismatic figure who inspired The Horse Whisperer, horses are a mirror of the human soul. This richly textured and visually stunning portrait follows Brannaman as he teaches people to communicate with animals through instinct, dramatically transforming horses-and the humans working with them-through understanding, compassion and respect.
Tues. Dec. 20 @ 8pm
UNDEFEATED
Q&A with directors Dan Lindsay and T.J. Martin
Like a real-life Friday Night Lights, this emotional film paints an enthralling portrait, whether or not you care about football. Volunteer coach Bill Courtney takes over a beleaguered high school program in urban Memphis where players are more likely to go to jail than to college. Filmmakers Dan Lindsay and T.J. Martin follow the team's season with masterful camerawork, vivid characters, and gripping plot twists.
Thurs. Jan. 12 @ 8pm
THE INTERRUPTERS
Q&A with director Steve James
Hoop Dreams director Steve James delivers another non-fiction epic set on the streets of Chicago, following an organization called CeaseFire, comprised largely of former gang members who are trying to break the cycle of urban violence. James, teaming up with producer Alex Kotlowitz, author of the acclaimed book There Are No Children Here, immerses us into a world that feels like a real-life version of The Wire.
Related Film