Members of the Black Documentary Collective, STF regulars and film-fans alike came out for a special evening of remembrance. It was a tribute to the late St. Clair Bourne, who passed away last year at the age of 64 (see NYT obituary). The evening began with introductory remarks by his sister, Judith Bourne, and was followed by a screening of his documentary MAKING DO THE RIGHT THING .
Some snapshots of the evening:
1) From L – R: Kathe Sandler (director of A QUESTION OF COLOR), William Greaves (who gave Bourne an early opportunity on the TV show BLACK JOURNAL), Thomas Allen Harris (director of 12 DISCIPLES OF NELSON MANDELA) and Sam Pollard (editor of various Bourne and Spike Lee films, not to mention CHISHOLM 72 – playing at STF on Nov. 4) – who all participated in a Q&A after the screening.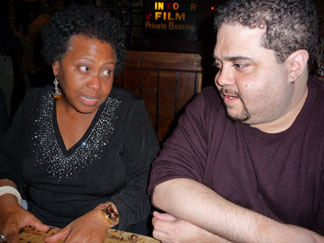 2) Judith Bourne (sister of the director) speaks with Mark Rabinowitz (blogger of the Rabbi Report)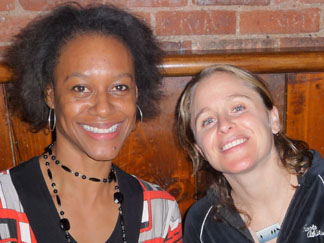 3) Filmmaker Laurens Grant with filmmaker Jesse Epstein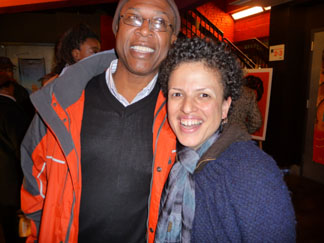 4) Michele Stephenson and Joe Brewster, whose latest film is SLAYING GOLIATH
Related Film