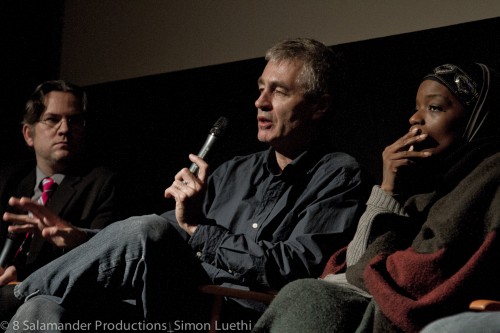 The conflict mediators that work for the nonprofit CeaseFire are exceedingly literal in describing themselves as interrupters. CeaseFire's model treats violence like a disease, and their work is centered on stopping the transference of violence at its source. For the interrupters, that often means their work puts them directly in harm's way—sometimes directly between an armed assailant and their intended victim. In his film, THE INTERRUPTERS, director Steven James shows us that the mediators are driven to do their work by something deeper than a simple desire to do good. Many interrupters carry around with them the weight of their crimes, committed in former lives as stick up kids, gangbangers and thieves. For those, conflict mediation is a way to attempt to exorcise the demons while staying true to the code of the streets. For other interrupters, the work is an attempt to save a younger generation from the pain they had to suffer growing up hard on the block. There's no easy solution for solving the problem of endemic violence that besieges the Chicago South Side neighborhood of Englewood. Residents have been suffering from an unraveling of the social fabric for far too long. The lack of employment opportunity accompanying the U.S.'s wider recession is not news to them, it's a reality that they have been forced to deal with for years. Following the screening friend of Stranger Than Fiction Hugo Perez spoke with James and film subjects Ameena Matthews and Cobe Williams. Click "Read more" below for the Q&A.
Stranger Than Fiction: Steve, how did you first come to this subject, and for Ameena and Cobe, what was the first meeting with Steve like. Had you been familiar with his films at all?
Steve James: The film was inspired by my partner on the film, Alex Kotlowitz, a great author who worked as a producer on the film and has been a great friend of mine for many years. He wrote a piece in the New York Times Magazine, a cover story on this organization CeaseFire. Alex and I had been looking for something to do together and this seemed like the perfect project to do. In a deeper sense, for both of us, we both had people that we'd come to know quite well from our other work, with me from Hoop Dreams, who had been lost to the streets. For those of you who've seen that film, Arthur Agee's father, Bo, was murdered some years ago, as was William Gates's older brother Curtis. To see the devastating effect that those losses had on the families—and they were both very senseless situations—sticks with you. It just seemed like it was a good time to refocus a film on this issue of urban violence. We have a sense that everything's been done that can be done. New York's been much more successful at this than Chicago, although Chicago has made great strides. The murder rate in Chicago, I think, is four times that in New York per capita.
STF: What was it like to meet Steve for the first time?
James: Do you even remember?
Ameena Matthews: I do remember. I ran from him, I did. In working with the project and dealing with the serious issues we have going on on our streets, and our high-risk youth—but knowing Alex and seeing the piece that he did, that was pretty cool. But then, when they were talking about bringing cameras and following us for hours at a time—me dealing with media prior to the idea that Steve and Alex had, I was like, this is just going to be another sad, fucked up story about inner city youth. Another black kid dead, nothing's happening behind it. I didn't want to have any part of that. I didn't want to do anything to jeopardize my effectiveness out in the community, with the cameras and white boys and Alex's police shoes. I ran from them, because the stigma of camera and white man in Englewood, in our ghettos, is that they're either the police, the Feds, DCFS [Illinois Department of Children and Family Services]—something is about to happen and it's not going to be good. It took a little while, maybe a couple of days?
James: A couple of days?
Matthews: He says two months, it didn't seem that long. After just getting to know Steve and Alex personally and meeting their families—well, we didn't meet their families until later on, but they talked about their families. If I give you something and you give me something back that is impactful emotionally, spiritually, then we can jam. They would talk about their families, and I would talk about mine, and the things they were talking about were very personal. So I decided to move forward, also with some positive reinforcement from my supervisor down at the program telling me to let them in. I did and I'm very pleased and happy that I did, because looking at the documentary from the standpoint of an audience, not as me being an employee, it's already been so impactful. People want to get involved, not to be a violence interrupter like Cobe and I, but to get involved. And I'm starting to see that. It's not as big, but we have to start somewhere so I'm grateful for that.
Cobe Williams: [CeaseFire] Director Tio Hardman keep telling us at our meetings every week that they were doing a documentary on CeaseFire. He keep stressing this every week, so I just kept calling them, and they was Johnny on the spot. We sat down first and talked about it so they had an understanding that if they come out to the community and somebody doesn't want to get filmed then they got to leave, and we'll stay and do our job to mediate the conflict. I kept calling them everytime somebody called me with a problem or mediation. I walked into a lot of situations where I said, I want to let you all know that if you call me I got my film crew with me. So I kept telling people that over and over. So once Steve and Alex started hanging with me in the community a lot, I said, man, you don't know who that is? That's Steve James, he's the one who did Hoop Dreams. That's how it opened up. It started working out, and they kept coming, like I said, always on the spot, they were doing some good filming.
STF: Steve, this film is two hours long, and you have a lot of characters that you're following. It's a pretty remarkable feat of editing that you're able to follow as many narrative arcs as you do. Can you talk about how you crafted the narrative, and were there any subjects that you loved, but couldn't include in the film?
James: Just to answer that one first, there's this great story on the DVD with Cobe and this kid named Stephan, who was living down the street from Cobe's grandma in an abandoned home. Cobe tried to reach out to this kid and help him. At one point in time when we were editing it was strung through the film like the other stories. Eventually, with great reluctance, we took it out to shorten the movie and focus it more. We understand it's a lot to ask of an audience to track three interrupters plus the stories of the people they're dealing with. For me, we knew early on that it wasn't going to be the traditional arc of a narrative. It's always wonderful when you have that strong narrative to hang your film on, it's a gift to have that. I've been fortunate to have that in the past with films. But I think one of the things that's exciting about this film, creatively for me as a filmmaker and editor, is not having it. And trying to capture organically and preserve organically the nature of what we witnessed in that year on the streets, and find a way to pull you through the film hopefully, that is compelling and interesting. Even though it's not that strong narrative, it's a lot of mini-narratives. As filmmakers, the more films you make, you kind of look forward to situations where you might not have everything that you want, and how can you solve it? The solving of those kinds of things, creatively, makes a film more distinctive, more original. You have to find a way. I didn't feel it was hard in this case because we had such great subjects, such great people and stories. But it was still a creative challenge and a lot of fun.
Audience: Has the film played in Englewood, and how was it received in the community in the Chicago area if so?

Williams: We don't have a theater in Englewood, but up the street about ten blocks there's a theater where it stayed about 11 weeks. It played on the West Side where we've got a CeaseFire office for 13 weeks. It played downtown at the Gene Siskel for two weeks straight, then it came back a month later for two more weeks. It's been playing great in Chicago, it's been playing in a lot of schools in Englewood—high schools, colleges. A lot of people have been responding to it, they've been talking about it a lot. And we've got a lot of bootlegs in the community. A lot. Five dollars. But the DVD is coming out February 15, and it's got a lot of extras.
James: In fact, the version that played at Sundance a year ago was 40 minutes longer than this version. You may count yourself as blessed that you didn't have to sit through that, but there were some great scenes in that version that went away that are in the DVD.
Audience: There were a few spots where you were able to pull people out of their world, allow them to make a change. Do you think they had something in common?

Williams: First of all, we spend a lot of time with these guys, we spend a lot of time with them. You've got to spend time if you want to make them change. With Flamo, he reached out to me and said he had a problem. So any time he called me, that meant I got his attention right there. He called me and said he got a situation, and I told him I got the film crew with me. So when I got over there he flipped—who is these white guys right here? I said, I just told you they're coming with me. He was on 10 really, so charged. I really was like, I ain't gonna waste my time with him. Sometimes in this job, you want to give up on somebody, but it reminds me not to give up. Steady working with Flamo, it took about five to six months to visit him, take him out of the neighborhood. To really get him thinking about his sisters, his brothers, his kids. Doing this type of work you need to be thinking on your feet all the time. With Lil Mikey the difference was that he had just came home. He had gotten rejected 12 times trying to find a job, he was determined. But he kept saying all the time he was locked up that he wanted to apologize to the people at the barbershop he robbed. That was something he wanted to do. We went to the barbershop about four times to talk to the people, they refused, they didn't want nothing to do with him. I was ready to give up on it. But Steve and Alex went in without me and said, we'll leave the cameras out of here, but this is what this young man wants to do. And once Steve and him talked to them, they let him apologize. A lot of these guys want to make a change in their lives, they just need some guidance and some help to get to that next level. It reminds us over and over not to give up on them. Me and Ameena and the whole CeaseFire staff, we don't judge nobody. We meet them where they're at and try to take them to the next level.
Matthews: With each conflict or crisis, there's always a principle. What a principle is, is maybe one or two is the aggressor, that's the one that stands out to us. We're gonna grab them by the back of the shirt and say, come here. You just saw Mikey and Flamo, but it's 150 of Mikeys, Flamos, Capryshas, Stephans that we deal with on a regular basis. They did get lucky to be followed in the documentary, but at the same time, Steve didn't want to lose you guys with all of the different people. Before they're ready to go to the outreach workers we need to work with them to change their minds, to really chill on that crisis or conflict. I'm ready to get back to Chicago because I have so much work to do. We deal with so many high-risk youth and their families. Once we deal with the principles, we have to deal with their moms, aunts, uncles—just different things that are going on. Violence is the result of a whole bunch of symptoms going on in their lives. Sometimes they're not as open to say, ok, I'm open to listening. They may listen and go back and do some dumb shit. As long as they're calling and answering the phones, and the police haven't really gotten in—because once the police get in we have to back out. We deal with a whole bunch of youth in which we get to impact how they think about violence, how they react. CeaseFire is, "Stop the Shootings and Killings." My parents used to tell me, if someone hits you, you hit them back. That's a form of defense. Now, I have to tell our young youth, if someone hits you, you don't have to shoot to kill them. They don't have to die because they hit you. These guys are starting to shoot because someone looked at them the wrong way, put something on Facebook, put something on YouTube.
Audience: Do you think there's been an escalation in the type of violence we're seeing? People are going around shooting people like it's nothing. Something's changed.
James: I just want to point out one statistic which may make you feel better, which is, nationwide, murders are down in America, in virtually every American city, from the height of the crack epidemic. Back in the early 90s, when it was at its peak, there were twice as many murders in Chicago as there are now. The violence statistically in poor neighborhoods in Chicago is very located. Something like 90 percent of the murders take place in 10 or 12 percent of the neighborhoods. There's a lot of reasons that those murders have come down, certainly the interrupters' work is part of that. For good reasons as well as loss of population in Chicago. The black population in Chicago has declined by 17 percent in the last decade, 20,000 less residents in Englewood alone. There's other reasons for the decline as well.
Audience: Do you feel threatened while you were filming?
James: We never really felt any real threat, I think that was entirely due to these guys. We were with them, and that made a huge difference. I've had the experience of shooting in neighborhoods where I go to film and I'm not with an interrupter. I've done it enough where I think I'm sensitive to those situations to know how to get people's permission to allow you to film. I know for a fact if I walked into Englewood without them and got the camera out and started filming indiscriminately, it would not go over very well. And I would never ever get close to the situations we were able to film. So it's really them, and the trust people have in them. Both their former reputations and their reputations for what they do now that makes a difference. When we're with them, they see there's a connection between us. They're not showing up in these neighborhoods and acting all different because of us. That makes a huge difference. Having said that, there were a few situations that were a little dicey, and they were always looking out for us. Ameena mediated a situation with Alex that had nothing to do with what was going on in the moment, it had to do with a guy that had seen Alex give a speech months earlier that he didn't like. He was kind of a threatening guy and then Alex showed up in the neighborhood when we were filming, and he zeroed in on Alex and Ameena had to deal with him. With Eddie, we did some filming in his neighborhood of Lil Village with some gang members. After this one really great scene, which is not in the movie because of this, the word got passed down from the top of that gang that they didn't want us over there filming any more with gang members, and so we didn't.
[Q&A edited for length and clarity]
Related Film