Written by Nicole Alicia Watson
Last night at the IFC, I walked tentatively into the theatre. The returns had just started to come in and it was hard to pry myself away from the TV screen downstairs—even though all the pundits, experts, and media mouths had little to say at 7:45 pm. But I went into the theatre to watch STF's screening of CHISHOLM '72, an amazing film about Congresswoman Shirley Chisholm, a self-described "mavericky," African-American woman from Brooklyn who sought the democratic nomination for the presidency in 1972.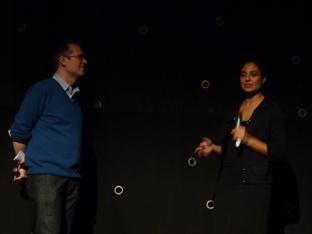 Chisholm failed to win the nomination and the film makes it clear that she was campaigning at a time when the US was never going to see an African-American woman as a viable candidate. When asked why she made the film, director Shola Lynch explained that she wanted to know why someone would enter a race, knowing that winning was not an option, but in working on the film she realized that winning, "wasn't black and white, it was nuanced." Chisholm ran because she had every right to. For those who may have said to Chisholm, you can't run, I imagine her replying, "Yes, I can." Her campaign was an ideological victory.
As I watched the film I thought, "it's true, the more things change, the more they remain the same." It was an important election year. The US was in a war that had no end in sight. Florida and New Hampshire were key states. Politicians didn't always like to answer the questions they were asked. Americans were genuinely trying to find a means for change and as Congresswoman Chisholm explained, "the only thing you've got going for you is your one vote."
By the time the screening was over, many of us realized that gathering to watch CHISHOLM '72 on election night '08 was the perfect thing to do. The message was clear: this year, Americans had the option to cast our one vote for a candidate that was once an impossibility.
A little after 11 pm, I realized, the more things change—the more things CHANGE.
—————————————————————————————
Some photos from the STF reception at 99 Below: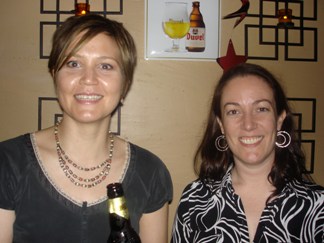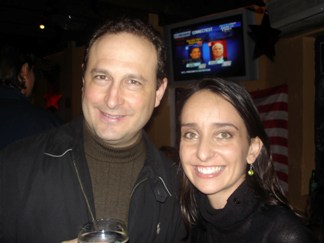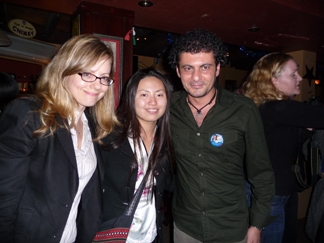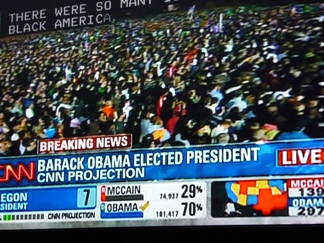 1) L to R: Filmmaker Mikaela Beardsley and magazine editor Kyla Dunn having a beer while waiting for election results
2) L to R: Michael Doyle (currently enrolled in NYU's Documentary Development class) and Raphaela Neihausen trying to stay calm
3) L to R: Journalists Christine Hauser, Jing Zhou and Jaff Warzer anticipating the election returns
4) The results come in finally!
Related Film