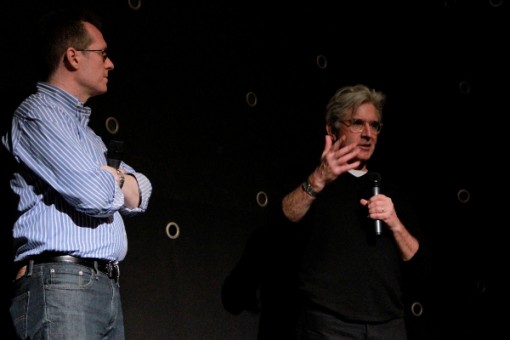 Former CIA Director William Colby is perhaps best known for the role he played in the hearings held by the Senate Select Committee on Intelligence in the 1970s, which were chaired by the late Senator Frank Church. Clearly a polarizing figure in many regards, Colby during the hearings personified strife within the CIA over how much deference the U.S. intelligence needed to show to Congress during America's post-Watergate years. The fact that there were elements within the CIA angered by Colby's embrace of transparency in the hearings even today feeds conspiracy theories that his 1996 death was not an accident, as was concluded in a coroner's report. In his film THE MAN NOBODY KNEW: IN SEARCH OF MY FATHER, CIA SPYMASTER WILLIAM COLBY, director (and William Colby's son) Carl Colby posits the theory that Colby's death was deliberate, but came at his own hands. Clearly a complicated figure, Carl Colby's film further complicates history's take on his father, a man it seems no one really knew. Following the screening, Stranger Than Fiction Artistic Director Thom Powers spoke with Carl Colby. Click "Read more" below for the Q&A.
Stranger Than Fiction: The thing that you might have had in making this film is, perhaps, greater sympathy in getting access to the incredible interview subjects you had. Can you talk about your ability to gain access?
Carl Colby: I interviewed over 85 people. Being the son of William Colby gets you maybe two interviews with a couple of the old OSS buddies. Someone like Bob Woodward or Seymour Hersh, Secretary Gates, Donald Rumsfeld or Brent Scrowcroft—you got to do your homework. So I would probably spend about two days writing that e-mail. I haven't been divorced from this subject my whole life, I've kind of been immersed in this area. I wrote to them telling them what I'd like to talk about. And it's almost like if you were in, let's say London. And you meet somebody like Thom, and you know Thom has been in Africa. So you say, Thom, how's Africa? What's going on in Ethiopia? Well, what are you talking about? Whereas you could say, Thom, I've heard that Sheik Ahmad in Mogadishu has organized a troop of 400 guys, and they're getting armament from Syria and it's being transferred through this other group in Somalia, etc. So you know something. Then they will tell you something back. The agency is like that. It's a little bit like the Hollywood studios. Hey, how's the movie business? Well, what does that mean? Whereas if you say, I heard that so-and-so's deal went south, and I have something that's in that vein, then you're in the business of it. It's a little bit of asking them things in which they will respect you for the question, and they know there will be a dialogue.
Audience: In reference to that privileged information, do you still have access to documents laying around your house?
Colby: Well, there are documents in the house, but they're more OSS records, and his diaries and things. Which I've kind of wondered about. Maybe they do have sensitive information in them. But we're going to donate them to probably Georgetown University's library so everyone will have access to them. I didn't ask for anything special from the CIA. I know people there obviously. I just went out to visit with them and said, this is what I'd like to do. And if there's any information you can give me that might help. They gave me some documents, but there's nothing secret or top secret. My vision was not to delve in and tell stories. There are people that I could have talked about or made notions about. It almost reminds me of when I was 15 years old and went to Indonesia for the summer. I had a terrific time staying with one of my friends, his father was the ambassador to Indonesia. We went to Sumatra and it was fantastic. I remember I came back and told my dad, oh I met Mr. X. He's a really terrific guy, really admiring of you. Do you ever see him? He goes, huh, very interesting. Don't ever mention his name again. So I realized this guy I had gone hunting with was a deep cover and my helping the mission is not to reveal his name. That kind of thing would occur here and there my whole life. You come home, there'd be somebody in the house. One time I walked down the stairs in Saigon and there was a woman all in black, with funereal garb on. My mother was consoling her, so I realized that something had happened. I see that pictures of her husband had been found on the river the day before, chopsticks jammed through his ears. He was tortured and left for dead. So how does my mother know him? How does my mother know her? Why is this reporter over here tonight? Who does he work for? I never really confronted my father directly about, who's this guy? You wouldn't say that. In fact, I never even talked to my brothers and sisters about what he did, it just kind of dawns on you. It would be like if your father was a senior detective in the NYPD, lives out in Rockland County. He disappears maybe for the weekend and tells you he'll be back, and he's doing American gangster kind of work. You take it as a given that that's what he does. And you support the mission up to a point that you then start asking more pertinent questions later. That's when it became more interested.
Audience: How much that your mother revealed to you was new to you?
Colby: I started the project thinking that it would be a profile of my father as a Cold Warrior and an operative. And almost as an afterthought I interviewed my mother, I thought she might have something interesting to say. Then everything changed. It really became my mother and my odyssey to uncover who my father was. She was very courageous and has been through a lot. It's her forthrightness and guile, really. The woman you're seeing doesn't know she's talking to you. She's just talking to me. That's why she says, oh Carl. I realized that midway through and I thought, my God, she's talking to me. I thought that was something to share with everybody else. My editor said, there's something interesting in here. I started out making the film about my dad, and it ends up a kind of valentine to my mother.
Audience: Were there people that you wanted to interview that you didn't get a chance to?
Colby: I talked to Henry Kissenger's office, and he was interested up to a point. And then it never really gelled. Dick Cheney was interested in doing it because he was also writing his book at the time. But then he wasn't feeling well so that fell off. Bush 41, it never really gelled but a couple of months ago he asked me to send a video. So I sent him a DVD and thought I'd never hear from him. I was going through my mail and there was a letter from Houston and he thought the film was quite extraordinary and very powerful. The one thing about these people, they're like crocodiles. You can't hurt them. They've heard your voice. They understand that they are criticized. They look at things from, I think, a slightly different perspective. Some took pity on my father. Some changed their mind. Kissenger said later about my father's testimony, you're right. I was wrong. If you had revealed those secrets it would have destroyed the agency.
Audience: Are you having distribution problems with the film?
Colby: I thought we did pretty well. I talked to my distributor First Run Features today. And Thom, a great champion, he really liked the film and wanted to show it at Toronto but they had such a busy schedule with a lot of American films that it didn't go to that. Then we quickly got distribution from First Run, but also got a booking at Lincoln Plaza Cinemas. We ran two months there, and also at the Quad Cinema. I'm really happy to see this audience too, because most of my audience is sort of the NPR audience. A little older.
STF: This audience is more the Rush Limbaugh audience [laughter].

Colby: It's a very tough world, independent filmmaking. You make something, and you want it seen. My big worry is, I'd walk down the street thinking, I'm not passing anybody in the street who wants to see this film. I'm walking by hundreds of people on 7th Avenue, and not a person who's going to see this film. Maybe we ought to open in Washington. And they were like, no, open in New York. And in the end I realized that this was the greatest audience. You're all really inquisitive.
Audience: Was General David Petraeus influenced in counter insurgency practice by your father?

Colby: Absolutely. General McMaster wrote a book, actually, called "Dereliction of Duty" about how wrongfully prosecuted the war in Vietnam was. And he was vilified for that and remained a Colonel for a long time. Now he's head of intelligence in Afghanistan. General John Allen, Marine Corps, is the head of all operations in Afghanistan. We sent him the film a few weeks ago. They studied this. Petraeus is very savvy. They're not engaging in these giant battles. They're trying to really engage in counter-insurgency. The problem with that is that it's a really thankless job. It's extremely difficult. It's really policing, it's not war. And the Marine Corps is not meant to go out and distribute bandages and build villages. They're in business to kill people. And they kill our enemies, that's what they're there for. I don't think the American public has much of a stomach for it. They certainly don't have the patience. It's a real problem.
Audience: If your father could see the film, what do you think he would say to you?
Colby: He'd probably feel I was pretty fair. During the hearings, and when he'd come back from Vietnam we'd argue about the war. I'd tell him, you're just brutalizing these people. And he would try to be reasonable and make me think it through. He was very colored by his France and Norway experience. He thought he was liberating oppressed people. As a young 24-year-old he blew up Nazi troop trains, and villages suffered reprisals. He watched as villages were decimated. So he knows the price. I think he would think I was being fair. He might think I wasn't describing the Phoenix program as fully as he would like. The biggest revelation would be my mother, because I think he would see who he left behind. I have a feeling in his last week or two he was reminiscing, asking himself, who are you? It doesn't matter if you're a general or ambassador, it all fades. In Rome, near the Coliseum was the Arch of Constantine. And he would tell me that there would always be a little slave boy on the chariot with Constantine, whispering sic transit gloria—all glory passes. This is your moment. I think he understood that. It's a very treacherous, almost chilling view of the world. He had a fatalistic air about him. Something that none of us would really say. You would be devastated if one of your friends or children was killed. I think he absorbed that. He had a capacity to absorb and inflict pain that is not in your vocabulary.
Related Film