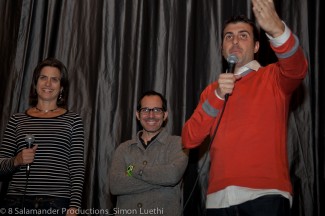 Stranger Than Fiction: What brought you to the story, and what led you to take control of it? I would think once the news broke, the revelation had been made, that there would be lots of people who would want to tell this story.

Douglas Newman: We got to the story soon after it broke. I was in college at Brandeis University, and was assigned The Education of Little Tree in class. My father, in passing, mentioned remembering reading something in the New York Times about it being a hoax. I mentioned it to my professor, who kind of blew me off. The long and short of it was that I went to a different professor who said, you should do a project on it. Laura, who was a graduate student writing a book about fake ethnic biographies—yes, there are enough to fill a book. Then about twelve years later, after working in documentaries, I approached Marco and Laura, and said, let's do this for real. No one had done it, and there were a lot of challenges that made it so that no one had done it.
STF: Can you talk about those challenges?
Newman: One is a lack of people who want to talk. It took us a long time to get people who were willing to talk. Another is a lack of archival footage. We squeezed every bit of archival footage of Asa and Forrest that existed, those were the two biggest challenges.

Marco Ricci: Well, also, his life is confusing.
Laura Browder: It's a very tangled web. We had to do some simplification, just to be able to tell the story coherently. His life was a mess, he moved around a lot, he had these different identities…

STF: Talk about the search for archival footage, because what you did pull up is kind of amazing stuff.
Newman: I think our biggest find was in somebody's basement, it was a two-inch tape of his campaign commercial for governor. We found stuff at a local Alabama television station that they didn't even know they had. Because I had gotten it years back, and then Marco and I went down to Montgomery and searched their archives and we didn't find it, and he didn't know he had it. The liberty essays, the audio, we used a couple at the end, we got from one of his friends who had the cassette tapes.

Ricci: There were months of detective work that had to go into this.

Audience: Did you guys get in touch with his family? What happened to them?

Browder: His family was also very elusive. His wife would never return phone messages, his kids would never return phone messages. We did track down one relative eventually, who was a very interesting person, but didn't want to be interviewed on camera because he didn't want to be identified with a violent white supremacist.

Ricci: We had a screening in his hometown, and a lot of his grandkids were there. We met them and they really were appreciative to—and his son too, to an extent—but they were appreciative of the portrayal because ours is not as condemning as he was in the papers, I don't think. We tried to present a fairly rounded piece. So we met them there and they were appreciative of the handling of it, which meant a lot to me.

STF: Can you talk about getting those interviews with the former Klansmen? Or for all I know they're current Klansmen. What was the process?
Ricci: Douglas had met this guy Wayne Greenhaw, who was sort of the intro. But a lot of it was just like, we would go down three or four times, and then they would talk to us. Like Ray Andrews, he stood us up a couple of times, and then we paid him like 300 bucks or something, and he invited us to go out to some restaurant in the hills.

Audience: Do you, or does the Cherokee tribe, think he is part Cherokee?

Browder: For a very long time, The Education of Little Tree was on sale in reservation bookstores. We actually talked to the leader of a Cherokee cultural organization who still loves the book, and had her grandparents give it to her to read when she was younger. Has he been authenticated by the Cherokees? No.

Ricci: Well, what is Cherokee? That's very dicey. Are you on the rolls, is it blood, is it cultural? There are tribes in Alabama who are totally not Cherokee compared to the tribes in Oklahoma, but they believe they're Cherokee. It's a really loaded question.

Newman: He's not culturally Cherokee and he's not on any rolls.

Audience: Do you think this was something where people enact another ethnicity to reinforce their feeling of whiteness?
Browder: Yes, absolutely. There is a long history of white supremacists embracing Native Americans as a pure, doomed race. In that sense, Asa Carter fell squarely into that tradition. That misty footage you saw at the beginning of the movie, that was from the first supposedly all Native American movie, The Silent Enemy, which starred a former colored janitor from North Carolina who had reinvented himself as a Native American. Asa Carter was kind of the flip side of that.

Audience: Did his wife and children know what he was doing?

Newman: She knew, his kids certainly knew. I think they really were kept kind of behind the scenes, I don't think they went with him anywhere. But they definitely knew.

Audience: How exactly was the fraud uncovered?

Newman: It was actually uncovered twice, three times maybe. It keeps getting uncovered. People forget, and then it pops back up. It was originally uncovered in 1976 in a very small article buried on like page 26 in the New York Times by Wayne Greenhaw, who's in the film. He wrote something when Josey Wales came out, wondering if Forrest Carter was really this guy Asa Carter. No one paid attention to it. His publisher denied it, his camp denied it, and everyone seemed to be fine with it. Then Dan Carter, when the book started becoming really popular, right around Dances With Wolves, that's when Carter wrote a full page op-ed piece in the New York Times. Then Henry Louis Gates Jr. wrote something, and that's what got people's attention. It's funny because it was on Oprah's book list until 2007.
Browder: The history of Asa Carter is the history of our cultural amnesia, really. We kept finding out that he wasn't who he appeared to be, and then we forgot again, because we wanted so badly to believe as a nation in this mystical, magical Native American identity that he wanted to portray.
STF: After spending all this time on this character, what are your personal feelings on Asa Carter, Forrest Carter?
Ricci: We've had arguments for hours about it. But obviously as a director, you sort of fall in love with your characters. Not that I'm in love with Asa, but he's certainly a fascinating guy, and I have my own thoughts on the truth of his journey, but I think I'll keep them to myself, because I think that's what's enjoyable about it. If you talk to people who knew him, they would insist that he was a transformed guy.

Browder: He was successful because he was a cypher, he was sort of a Rorschach blot that audiences could project their fantasies onto. We all hope and wish that our audience will do the same thing.

Ricci: One thing you have to give him credit for was that he was really smart and talented. No doubt about it. If you look at the stuff he wrote in the 50s, it's awful, but he knew what would get people emotionally.

Audience: Was he aware of the violence that his speeches could cause?

Ricci: I certainly think he was aware. He certainly was a believer in segregation, no doubt about it. It was war to him, he was fine with that at that point in time.
[Q&A has been edited for length and clarity.]
Related Film