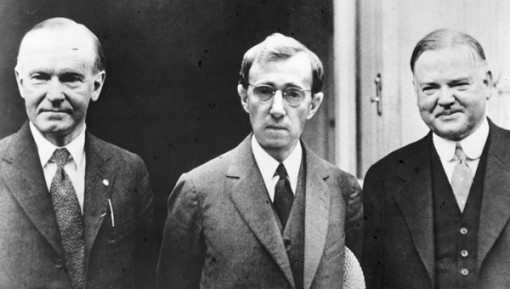 Woody Allen's mockumentary ZELIG and Dana O'Keefe's AARON BURR, PART 2 have in common a dedication to characters lost to history. ZELIG is prescient in its foretelling of a person lacking any defining characteristic who is nonetheless celebrated as an artifact of mass culture, then discarded and forgotten about (Jon and Kate, anyone?). O'Keefe, for his part, in AARON BURR, PART 2 explores a revisionist history of his titular character, but displaces period setting in favor of the present. Both films question the criteria by which our society celebrates its heroes, and defames its villains. After watching them, one can't help but consider that what might be of paramount importance today, in 100 years might just be a parking lot in Weehawken. Following the screening, Stranger Than Fiction Artistic Director Thom Powers spoke with Dana O'Keefe and actor/score composer Alex Kliment. Click "Read more" below for the Q&A.
STF: What drew you to make a film about Aaron Burr?

Dana O'Keefe: I don't recall exactly where it began, but I think the story was always fascinating. I think the impetus was when we went to Weehauken and visited the parking lot. There's all this history hiding in plain sight all around us and looking at the founding fathers from the jaundiced perspective of someone who wrote himself out of that history seemed like a way to puncture some of those myths about the period, and that his perspective on it would be very different.
STF: When I think of Aaron Burr I think of Gore Vidal's novel, that also took a provocative view—

O'Keefe: Gore Vidal's novel definitely eclipsed all of the other source material that we used. He was the first person who really figured out, I think how to give a voice to this character. Certainly, we appropriated things from that very liberally, so we are indebted to him.
STF: Alex, you are Aaron Burr.

Alex Kliment: I have the jaundiced perspective? [Laughs]

STF: When you were working on this with Dana did you do anything to get into the role?

O'Keefe: I lived in the 18th century for a couple of weeks and method acted. [Laughs] I think we tried for logistical reasons but also creative ones to avoid making it too much of a period piece, and avoid linking this character of Aaron Burr—who I'm obviously not, and could never pretend to be convincingly onscreen. The idea was to represent what this guy could be like if you knew him now, and to sort of bring the story to life in a way that would be more relevant. I didn't go around in a horse-drawn carriage for three weeks before we shot the film, although I probably should have.

O'Keefe: What happened is that we kept trying to figure out how to avoid backsliding into something that was a period piece. In terms of the style of the film we were trying to figure out how to dust this off and make it kind of dynamic and accessible to a modern audience. Every time we tried to dramatize something they were in this quasi-period costume that felt super contrived. So it ended up sort of splitting the difference between a documentary and a narrative. It's somewhere in between.
STF: Anyone who's seen your other film, THE NEW YORKIST, can clearly see that you've got an interest in past and present and how they overlap. I think William Faulkner said, "The past is not dead, it's not even past." That is sort of embodied in your films. Can you talk about the intentionality behind that?

O'Keefe: I think using an anachronism—seething things that have context in terms of period—is just a way to force the spectator or audience that all these things happened here. Things we walk around and see every day and process. An obscure detail that I found fascinating was that the logo for Chase bank, which is this iconic thing that we see everywhere, was designed and created by Aaron Burr. It was this company called the Manhattan Company, before it was Chase Manhattan, that transported water through hollowed out logs in New York. So that logo is a hexagonal woodcut of a log. Broadway was called The Broad Way before. So it became a way to decipher the early history of the city, and kind of reconstruct it. Another thing I want to mention is that a lot of people are disturbed by the desecration of Alexander Hamilton's grave, which is simulated in the film.

STF: That was water.

O'Keefe: Yes.

Kliment: I can assure you it was water.

STF: Where is the grave?
O'Keefe: Trinity Church.
STF: Alex, you did the music for this?

Kliment: A bunch of it, yeah. Some of it is also David Axlerod pieces.

STF: You also composed the music for FIGHTVILLE and KUMARE?

Kliment: That's right.
STF: Talk to me as a composer. How do you approach a score like this?

Kliment: I guess I see building a score almost like building a building, in a way. My parents are architects, so I've always had that idea that music is, in a way, a form of liquid architecture for a mood or sense of being. So we would sit there and watch this stuff over and over again, and try out various sounds. Try and get them to hit the mood right. For Fightville we took a lot of inspiration from New Orleans big brass music. For Kumare we listened to a lot of North Indian music and tried to make up our own thing. For this, it was a little harder, because we didn't want to use harpsichords for the whole soundtrack. But we pushed ourselves to make the score as modern as possible.

O'Keefe: What I do with him is say, I want a sentimental mood. Or, I want Bernard Herrmann's score from Taxi Driver, and try to shame him into trying to one-up that somehow.

STF: Dana, you were excited when I suggested we show this with Zelig. I wanted to hear what Zelig means to you.

O'Keefe: I worship Zelig. You guys are in for a treat if you haven't seen it, it's a wonderful film. It's about someone who's sort of lost in history. It's an ingenious thematic pairing, obviously it's an incredible privilege and honor to show the film, so thank you for that. I met Woody Allen once when I was seven years old. We lived in the Upper West Side in a house, and he was shooting a scene for Radio Days. I was reminded by my parents that I painstaking assembled my collection of Legos for him and spent hours preparing for him to come and see it, and he completely overlooked it and walked past. That was the first time I was spurned by Woody Allen. This is truly a momentous occasion.

STF: He'll live to regret that.
Related Film