Written by guest-host Hugo Perez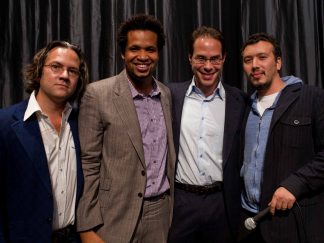 SXSW Producer, Janet Pierson, was on hand to introduce the doc which world premiered at SXSW 2009. Pierson recounted how of all the films that played at SXSW this year – STILL BILL was the one that people kept on mentioning to her as a highlight and a film that resonated with audiences. Damani Baker and Alex Vlack took the stage after the screening to wittily recount their epic quest to make a Bill Withers documentary – a quest dreamed up when they were just big Bill Withers fans starting out in the film industry. Fellow producer Jon Fine "Kanye West-ed" himself up onto the stage to share in the telling of how they tried for years to get Withers to even agree to meet them, and how years went by after that before they were able to shoot their first interview. Baker, Vlack, and Fine entertained the crowd with quirky stories like the time they asked Withers to run down the beach for them to get a shot and he disappeared on a 4 mile run and reappeared a half-hour later.
The Q&A was further enlivened by a man who will forever be remembered in the STF mythos (a la X-Files/ Kennedy plot/etc…) as the "cell phone man" who very loudly answered a cell phone call in the front row and then engaged the filmmakers in an attempt to get them to speak with his friend before shambling out of the theater. A 'you had to be there' moment that the filmmakers calmly stepped over to continue their tale-sharing. The half hour Q&A went by in the blink of an eye, and before you knew it the filmmakers and audience were huddled together at 99 Below, as is traditional, downing the special STF Withers Cocktail on the evening's menu. (Photos courtesy of Joshua Z Weinstein)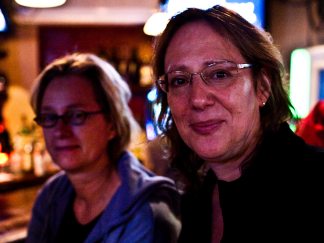 SXSW producer Janet Pierson with long-time friend Joni Wehrli.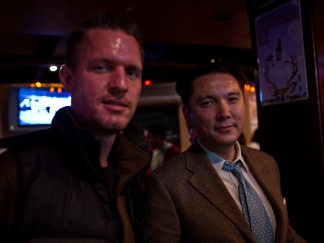 STF season passholders Andrew Berends and Andrew Yamato.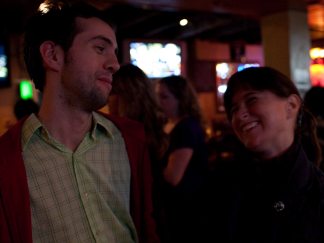 Filmmaker Yoni Brooks (Bronx Princess) with a friend
.
Related Film