This post was written by STF blogger Aaron Cael.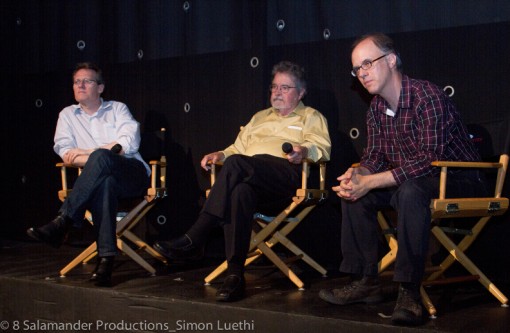 "This film started out as a joke," claims A PERFECT CANDIDATE director David Van Taylor. The joke being that after Oliver North served a slap on the wrist stint in prison for selling arms to the Iranians and lying to Congress about it, he'd be out and soon running for office. When that joke—cracked during North's trial—became reality, the directors felt obligated to cover the race. The 1994 Virginia Senate race pitted an embattled Democratic incumbent against two independents with niche constituencies and North, a dark horse conservative with a far-right friendly past as a felon.
Incumbent Chuck Robb is a caricature of a late-20th century Democrat on the national stage: a well-meaning geek with vague positions and a handful of sex scandals who we first see onscreen wandering alone in the empty aisles of a supermarket looking for someone to shake hands with. He is gaffe-prone and easy prey in the sound-bite era of politics. At one point, he somehow thinks its a good idea to start his answer to a debate question with "I'd take food from the mouths of widows and orphans…"
Ollie North comes across as something else altogether: a god-and-country golden boy for whom his arms smuggling past isn't a liability but a mark of his patriotism. As Van Taylor put it in the Q&A following the screening, "Ollie is the Godzilla ranging across the countryside in this film and Robb is the scientist you wish understood what the problem is a little better."
The candidates are too managed and too remote to be the protagonists of this film, however. The interesting subjects are Washington Post reporter Don Baker and North's advisors Mark Goodin and Mark Meritt. These figures gave the filmmakers the behind-the-scenes access in a pre-reality television meaning of the phrase. Van Taylor attributed the level of candidness to their persistence over the 11 months they spent following the campaign around. "We got a lot of nos before we got a yes," says Van Taylor, resulting in an excellent scene where Meritt and Goodin talk the nuts and bolts of political campaigning with a surprising openness that serves as running commentary on the film's events.
"We provide daily entertainment. What we don't provide is serious solutions to the problems of the country." – Mark Goodin
Spoiler warning: North loses, Robb wins. For the filmmakers, cutting the film so that this outcome was plausible to audiences was a real challenge even though that's what actually happened in an election with national media exposure. They pull it off ably.
Related Film