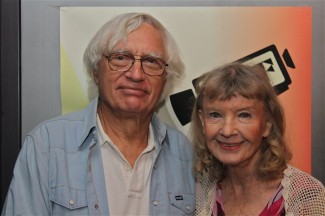 Stranger Than Fiction: I was watching this film knowing what was coming and feeling so much anxiety for that moment, it was her first day on the job, plus a camera. I'd love to just hear more from both of you about the making of this film. I think it's important for a contemporary audience to understand the vicissitudes of filmmaking. It wasn't like carrying around a videocamera with 60 minute tapes.
Ryden: We had to get sound and sync it up later with the camera. The sound deteriorates at the square of the distance, so it has to be very close. I had to be very close to her the whole time.
STF: You didn't have a boom pole.
Ryden: No, no. I still had to stay out of the picture. He [gestures to cinematographer Sidney Reichman] can't hear what's going on, because the camera is noisy and he's using a zoom lens. He's getting all these wonderful shots but he doesn't know what's going on, she might be saying what she had for breakfast, and we don't really want that. We had to communicate with each other by signalling. He has to notice what my hand signal says about what's going on. It's not as easy as it is now, when they wear their own microphone, your subject, and it's all electronic. We had to have signals. Every once in a while I'd have to do something to send a signal to the camera, and we would later sync it up. So I'm crawling around on the floor very close to the subject, trying to get good sound. He is seeing wonderful things but a lot of the times what he sees doesn't look wonderful, but it is because of the sound. We were very good at communicating, I think.
Reichman: The communication often times is kind of subtle. Because I'm watching the subject through a lens, not watching Hope. I'm zooming back and forth and doing this according to what I feel will give the best content or best emotional quality to the shot. Hope is crawling around on the floor trying to get the microphone up close. Sound is very important, and a lot of people going around with video cameras today don't realize the importance of sound in the sense that the little microphone is on the camera, and you just shoot the picture, which looks good. But the microphone is too far away. To get good sound you have to be close. And we used a shotgun microphone which was about two feet long covered with a rubber windscreen. The shooting of this film was interesting because at that time, we were on the forefront of what you could do with 16mm film in documentaries. This equipment that we used had recently been developed by D.A. Pennebaker, Ricky Leacock and a kind of mad technician whose name was Mitch Bogdanovich, who was able to do anything and everything with cameras and lenses. The tape recorder and camera were not connected with a cord, which had been the case up until that time. And the fact that we were separated enabled Hope to get close. If we had been connected with a cord, it would have been much more difficult, besides which we would have had to worry about getting tangled with the cord. The fact that we had this kind of equipment at the time was really kind of a breakthrough. For most of you folks shooting on video it doesn't seem to be much of anything.
STF: Sid, if I'm not mistaken, the cameras you were using had 10-minute loads. You had to change your reel every 10 minutes. Talk about going on that boat. What kind of equipment are you taking?
Reichman: The equipment that we used was a modified sound-on-film camera. The top had been cut off and we used 400-foot magazines which held 10 minutes of film. Hope and I were the only people on this crew.
Ryden: We needed somebody to help us carry things.
Reichman: I had a camera on my shoulder. I was carrying a couple of magazines in a modified World War II gas mask case over my shoulder. In my pockets I had two or three or four rolls of 16mm film in tin cans. I had an extra battery in my other pocket. I was wearing a safari jacket that was bulging out on all sides of me because I had to carry everything. Hope was carrying the tape recorder and spare tape. We were like a two-man band.
Ryden: I had to be very careful not to get in front of the lens but at the same time I had to hear what was happening, signal, stay away from the camera and still be very close, otherwise I wouldn't know what's going on.
Reichman: Hope would let me know, and I would try to listen, but nonetheless you get focused in on the picture. I did learn to listen because sometimes the cameraman has to do this by himself. Hope doesn't always know what's going on and I don't always know what's going on and sometimes you've got to sense what's going on and do it. So I had to listen, just as Hope had to look. We worked together this way.
Ryden: We had difficult spots, especially on the boat. It was very hard for me not to get in the way of the picture. The water was so rough and it's hard to get a steady camera shot of anything at all. When we got there, they took the patient to a hospital, and then we wandered around trying to figure how how we were going to stay overnight. It was dark, there were no hotels and everything was closing up. I said, there's a restaurant there that's just closing. Maybe they'll let us stay for the night. So we went inside and the woman was shutting down the shutters. I said, can we sleep here? And she said, okay, and put two tables together, so we slept on the tables. In the morning we got up to see what happened in the hospital and continued from there. We had no accommodations on the island, and we figured out how to stay there.
Reichman: It was very primitive and for me it was a kind of coming of age experience, just as it looked like it was for Margerie. For me it was my first hour-length tv special. I had shot a half-hour film for the CBC which Pennebaker put me on. He just put me on and had faith, and I came back with stuff that was useable and I think that was the next thing. Looking at that, Bob Drew, I guess felt that I was worth a gamble, and sent me out with Hope on this, halfway around the world. I was also an equipment technician, and the trick here was keeping the cameras and tape recorders in sync. I had the knowledge to be able to check these things almost every night. The cameras were being driven by a synchronis inverter, which drove the camera at precisely 24 frames per second, as long as the batteries were charged. When the battery started to drop in voltage, the cameras would run out of sync, and you wouldn't know it because the cameras just keep on running away. It was a problem trying to make sure the batteries were charged properly and that we had enough of them. When the cameras started to slow up you would see all kinds of flickers in the picture. This was a problem. The technology was on the forefront of the camera and tape technology of that time. The tape recorder was a Nagra 3 tape recorder, very high quality, professional portable tape recorder had attached to it a little Bulova Accutron tuning fork watch made in this country, back when we made things like that. The watch put out a 60-cycle signal which was recorded down the center of the tape. The camera was running at precisely 24-frames, being driven by a 60-cycle signal also. When we got back these two signals were basically compared and resolved. We made a recording from the four-inch tape which was precisely in sync with the picture. We had a light just so we could find a sync point. Hope would point the light at the camera, and then she'd press a button. I would take a picture at the same time and that would put a tone on the tape and give us a sync point. Sometimes we didn't even get that, we'd have to do it by lips. We didn't use the clap sticks that you sometimes see.
STF: Hope, you have recently been in touch with Margerie.
Ryden: I have. This story came about because I thought it would be interesting to do something on the Peace Corps, this was the first thing done on the Peace Corps. Rita had been out there and was coming back, and that seemed like a good point, because somebody was going to have some feeling about it, and that's what I thought I needed for a story. One person was going to have some feeling about what she had done, and the other one is going to be a little scared. And that's the start of a story, something's bound to happen. To find that story, I went to Bill Moyers who was then the PR man for the Peace Corps. I said, I'm looking for a story and I want something that's changing. Somebody's leaving, or somebody's going there, I need something like that. I'm sure that in a transition like that there's going to be a lot of emotion. When we went to film the beginning, which was the schooling in Illinois, what happened was, Kennedy died the day we were filming. I lost part of the crew, everybody went to Washington. I thought, maybe we should stop, but I continued to shoot, because the way we shot was that if you had a subject who was just saying things to you, you could never ask them to say them to you again. We just didn't do that. Everything was spontaneous in the way we worked. Some of the people said we should stop and respect what's just happened and not shoot them studying. We didn't, because I didn't see how we could have the film work if we said, we're going to repeat it and have it look a little artificial, as if you're in school. I wouldn't do that, I refused to do it. I think it built some resentment, that they thought we didn't respect what had happened, but that's just what happened to us. We were feeling just as bad as everyone else.
STF: It's funny because I never quite calculated that timing. You talk about January 1964 and, of course, you didn't really need to explain that at the time this film was shown, because everybody knew that. It's only now some 50 years later that we need to be reminded that that had taken place. One thing that strikes me is that a lot of films from the Drew Associates period of that time were very much U.S.-based films, if you think of Crisis or Jane. There's a few that were made abroad about Nehru and Kenya, but they aren't the more successful ones. I wanted to ask about that initiative to tell a story overseas. You get the sense from watching this film what a different era it was for travel, communication and so on.
Ryden: I had a lot of experience traveling because in those days the planes were prop planes and I was a stewardess. I had gone to so many places and had so many long layovers because if it takes you 14 hours to go over flying, they can't say, we'll pick you up. You wait for the next flight to come, which was three or four days later. I was quite used to going to a new place like Malaysia and spending time. It wasn't really any shock for me to be in a place like that.
STF: I think that you told me once that when they got rid of prop planes and jet planes that were quicker took over, then you quit being a stewardess because there were going to be no more long layovers.
Ryden: I was on the first commercial jet. When the got to Paris in six hours. The next day they said, pickup. And I said, what? They said, there's no reason for you to have a layover here. It had taken about 18 hours previously to get there, so they wouldn't be allowed to pick you up. When that happened, I decided, I've got to get out of this work. That's when I looked for something else and decided to become a filmmaker.
STF: Stewardess to filmmaker, just like that.
Ryden: I was so used to traveling anyway and I was so used to being in foreign countries and meeting people, whether they were passengers. It seemed like the natural thing for me to try to do.
STF: When you watch the film today, what are the memories that you have of that period. What are the things that didn't make it into the film
Reichman: I think a piece of almost everything we shot made it into the film, I don't think we shot any sequences that did not make it into the film.
STF: Which is blowing the minds of the documentary filmmakers in the audience who shoot 100 hours.
Reichman: We shot a lot. But there were not major sequences that didn't get in. As you mentioned before, it was 10 minutes. You'd shoot for 10 minutes and then have to put the camera down and put a new magazine in it and rethread it very carefully so you'd get the right sized loops. Meanwhile, things were going on behind you. You couldn't stop and say, wait a minute, it's time for reloading. We just had to keep going.
STF: Hold that blood bag right there—
Reichman: Don't laugh, that kind of thing has happened, where people will tell you to stop or just do it over. This was not that kind of filmmaking. We literally were filming what was happening. And if it kept happening while the camera was off we just picked up from there. It was tricky because everything was 10 minutes. Now you put in an hour of videotape or these days, memory cards. In fact, that's a problem for cameramen because at least when I was shooting this every 10 minutes I could put it down and reload it. But with video you never put it down. You just slam another roll of tape in or another card and keep going.
STF: Hope, when you watch it what do you think of from that period.
Ryden: I think about being so close up to the subject. I had to be tucked under a chair or something, out of range of the camera. I had so much feeling about what she was feeling. He had the protection of a lot of noise going on and he didn't know what was going on emotionally. Sometimes it's difficult when you're with someone who's very emotional and has a problem. You want to cry with them, but you got to be tough and keep going. You're really there when it's happening, it's different than just asking people to talk about when it happened in the past.
STF: You recently spoke to Margarie Benning. Did she have any memories of this?
Ryden: Oh yeah. She wanted to come but she sort of backed out and said she was too tired. I was disappointed because it would have been great fun.
STF: Did she share any memories with you about this period?
Ryden: Not really. We were all looking for Bill Moyers. I wanted him to come because he found the story for me, but nobody could locate him.
Audience: I found it interesting that you didn't use subtitles for the language at all. Did you consider using subtitles at all?
Ryden: No, and I thought the girls were very good with the language because they just had a little schooling. I thought they understood it very well and spoke it very well. I didn't understand what they were talking about, so I wouldn't have been able to do that. But I think the language was kind of music in itself.
Audience: Where is Rita now?
Ryden: I tried to reach her too, but I wasn't able to find her. I wanted her to come to this. She married, in fact, they both did.
Audience: Did you follow her any further?
Ryden: Not further, but you saw quite a bit of her in the movie. I didn't know either one of them.
STF: How long were you there the whole time?
Reichman: I think it was about a month, but I couldn't be absolutely sure. I asked Hope about that before we came up here. I thought it was about a month, Hope didn't recollect. The thing developed slowly, and it took a while for us to accommodate ourselves there. This was my first trip to the far east and my first time in such primitive conditions. I was so fascinated by it I wanted to shoot everything—the people, the cows, the trees, the whole environment was so beautiful and primitive. Today I hear the island of Langkawi has changed totally. It's now a gathering point for visiting yachtsmen who sail the far east. They have luxury hotels, I discovered looking at a cruising magazine. It blows my mind to think of that place as a luxury resort.
Ryden: We both got very sick. We decided to go home different ways. Sid wanted to visit Israel, and I wanted to go to Hong Kong. We split, and we didn't know that we were both getting sick. I got to Hong Kong and I thought, I am so sick I've got to see a doctor. So I went to the doctor and he was very nice and I thought, maybe I'd like to go to China, but I don't know how to get in. So he slipped me through and I went to China and saw a little bit. Then I got sicker and sicker. I went on to Hawaii and I thought, I'm not going to make it, I'm so deathly ill. I didn't know that he was deathly ill too, going the other way. I got home to New York, couldn't even get out of the taxi. I went to the hospital where I stayed for days. I didn't know that he came back and went to the hospital. We didn't know about each other except our two doctors met at a cocktail party and bragged about this tropical disease that was so interesting and they found out that we were both sick. That's how we found out the other was sick. What the symptoms are is elephantiasis.
Riechman: Luckily you have to get infected over and over again to suffer those frightening effects. Without the reinfections that disease is self-limiting, self-terminating.
Audience: I just thought you captured the emotional feeling when Rita left and was going out on the boat. You felt yourself what Margie must have felt, it came across so beautifully. Here she was with all of this load that was going to come to her, she didn't know what was going to happen. She wasn't as scared as I would have been.
Reichman: Hope mentioned before that somehow I didn't get as emotionally involved because I was shooting. Let me tell you, when you are shooting up close, you can see the emotion in their eyes, you can get very emotionally wrapped up. I have to confess that on some films I've worked on I've teared up at some times. This one was a similar kind of thing. You are emotionally involved, you can't let that prevent you from shooting, but if you can't feel it, you can't shoot it. At least you can't shoot it well. A lot of this is winging it. When the boat was leaving I was off by myself, and I think Hope was talking to Margerie.
Ryden: My connection with Margerie and Rita is very important because their feelings can't be expressed unless they feel like they have a good listener who cares. You're close to them, so they won't be themselves unless they really think that you care. It's really important. One of the best ways to have that relationship is not to talk, just listen and nod. Because you don't want to bring yourself into it. They'll be a lot freer with themselves if they think you approve and like what they said. You have to have a relationship when you're close to them, not through the camera lens.
Reichman: That's true, nonetheless, I'm having a relationship through what I see. But I'm not having a relationship directly with them because they don't notice me unless I move in very close. I'm back further but I'm often looking at a close up in the lens, so I can see what's going on in their eyes. But you have that direct relationship with them because you're right up with them with the microphone.
Ryden: People are afraid of microphones, I'm afraid of this one. That's something that they have to overcome. I felt that they just had to be directly with me and know that I really cared about them and was listening.
STF: There is a new film out this year, The Loving Story, that played at the Tribeca Film Festival. Nancy Buirski, the filmmaker, is in the audience tonight. She draws heavily upon footage that you shot of the Loving family in the 1960s. The Loving family was a black and white couple that were the subject of a landmark Supreme Court case that overturned antimiscegenation laws in the country. You filmed this footage with the intent of making a film in the 1960s. It never got finished and sat in your closet for 40 years until Nancy called you up. What was that project in the 1960s and how did it feel to see it come together now?
Ryden: Well, she did a magnificent job of putting it together and I didn't finish it. I intended to finish it but I didn't have the money. So it sat there and time passed and I did other things and went in other directions. I always thought I was going to finish it, but I didn't. Even when I went with ABC and the antimiscegenation problem was resolved by the Supreme Court I was working as a filmmaker for ABC and I did all of their news clips for things and I said we've got to go and do this. I got all of the footage with their camera people, which was a lot harder to do, because they weren't used to noninterference. She did use some of that too. She did a magnificent job of finally getting it put together, and it's a beautiful film.
Related Film