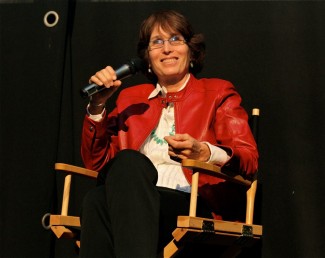 Stranger Than Fiction: What brought you to the film, the subject, the community?
Anne Makepeace: Back in 2006 I was hired by The American Experience series at WGBH to produce part one of a five-part series about Native Americans called We Shall Remain. Part one was basically about the Wampanoag and the Puritans. It was a historical series, my part started in 1620 and went to 1675. I worked on that project for about a year, I've done a lot of work with Native communities and I'm very much aware that it's all about trust, building relationships with people. It was during that project that I got to know Jesse, Linda, Tobias—most of the Wampanoag people who are in the film. As soon as I met Jesse I was completely blown away by her and the whole story of the language coming back. I did all the interviews for part one, I interviewed Jesse for that. But that series was not a contemporary story, it was historical, so there wasn't any way to include the resurrection of the language. After working on that for about a year, American Experience and I parted ways in a not very pleasant way. Shortly after that ended I realized, what's the story I really want to tell here. So many films about Native Americans end with death and disaster. And a lot of the story of what happened with native people in this country does have terrible, tragic endings, but here was a story about rebirth, resurrection, native people's taking their destiny in their own hands, connecting the past, building the future. In April 2007 I started raising funds—well, first of all convincing Jesse and other people in the language program to trust me to make a film about that.
STF: Was it hard in the beginning gaining their trust, shooting with the camera in these very intimate moments within their community? How did you go about doing that?
Makepeace: The Wampanoag like many native communities have real reasons to distrust people coming in from outside. Over that year that we worked on We Shall Remain I forged really strong bonds with people. We had forged this strong bond with them, but getting permission to make a film about the language was a whole other thing. The language committee had a policy that they would never sell anything with their language, it could never be used in anything that could be sold. They did not want any people outside the Wampanoag community to learn their language until they became fluent in it. So it was a very sensitive thing to get permission to do. There was a meeting I had with the language committee in October of 2007 where I explained what I wanted to do. Jason Baird, Jesse's husband, spoke for about 10 minutes in which this was perhaps the moment to trust people to represent them. It was an eloquent statement of support for the film and then they gave us unanimous support. But the project wasn't easy, Jesse from day one said, this film cannot be about me. That's another part about native culture, it's about the community. It's not about the individuals. That was a struggle throughout the film. I said, I can't tell the story of the language coming back without telling your story. And she would say, it's not about me. There was a point at which Jesse said, you have enough, and I didn't think I did, but I somehow made it work.
STF: Did you involve them in the editing process at all, or show them early cuts?
Makepeace: I did show them a rough cut, and Jesse happened not to be there, so she never saw anything until it was finished, really.
STF: Did she like it?
Makepeace: Yes, thank God. She really likes it. In fact, just last Saturday she and I participated in a Q&A at the Brattle Theater in Cambridge, and that was the first time she and I had been together in two years. Mae also came and participated, that was really great.
Audience: Where is the music from?
Makepeace: Joel Goodman, fabulous composer, did the music. It was a challenge because he lives in L.A. now. He did the music for a film I did in 2003 about Robert Capa for American Masters. That's when we first worked together. Then he did another film for me after he moved to L.A. called Rain in a Dry Land. He's fantastic to work with. My direction to him was that I would like it to have a native flavor—I said no flute, actually, because every Native American film has flute. He actually convinced me there could be flute, so there is a little flute. The process was, we talked it through, he came up with some sketches. He sort of misunderstood what I wanted initially, he really worked at several drafts. I love it, I think he did a great job.
Audience: Do the Wampanoag have their own writing?
Makepeace: They became literate in the 17th century through the instruction of missionaries who taught them to write phonetically with the English alphabet. You were looking at documents written phonetically in Wampanoag by Wampanoag. There are hundreds of them, that's what Jesse discovered. Deeds, petitions, letters written in Wampanoag all over New England.
Audience: Now that some of them presumably are fluent, will they sell books or other things using the language?
Makepeace: Not yet. There are maybe five people who are fluent. The great news is that Jesse and the other people in the film struggled for 15 years with no funding. But just last fall Jesse got a MacArthur genius award, so that's a big infusion of cash. I think she insulated her house, but otherwise it's going into the language program. At the same time they got a big grant from the National Science Foundation. So what they're doing with that is to found an apprentice program. So she now has three full-time, paid apprentices just learning the language so they can be fluent enough to start an immersion kindergarten. They have a long way to go, they're hoping to start the school in 2015. I'm selling DVDs, I am sharing [profits] to some extent with the language program. This is an exception, and there are probably others, but I don't think they're going to start producing things to be sold, they want to get illustrators to help them make books that can be used in their immersion program, but I doubt they'll let them out for another decade.
Audience: Do the Wampanoag have a political status, is it a sovereign nation?
Makepeace: The Wampanoag nation consists of different communities, and different communities have different status. The Mashpee Wampanoag just got federal recognition in 2007, after I'd started working on this project. There are other communities in different parts of Massachusetts with varying levels of recognition from the federal and state governments.
Audience: There was a creation myth in the film, is there much mythology left in the culture?

Makepeace: Not a lot. I haven't heard of other legends and myths found in the documents. There are some in Martha's Vineyard about how the islands were formed, so there are some. Not a huge amount, we're talking about 400 years of contact, so it's not just the language that disappeared, it was a lot of culture. There are no records of songs that were sung then.
STF: One of the things that moved me was the concept that the language is so much more than the words. Just through their relationship with language, they're able to understand their relationship with astronomy 400 years ago. That's incredible.
Makepeace: There are a lot of examples I tried to get into the film of discoveries made in discovering the language. Jesse told me that when John Elliott the missionary had Wampanoag people translating the Bible, there were a lot of concepts they didn't have in their culture, like sin, hell. She told me the way they translated hell, it literally means the house of people with empty heads. She understands that to mean that because the Wampanoag people believe the soul resides in the head, what could be worse than a house full of soulless people. I got in as much as I could.
Audience: Are there scholars that dispute her recreation of the language?
Makepeace: I've shown this film to a lot of linguists, and no one has questioned it. She's working with Noam Chomsky and Norman Richards—well, I guess there are a lot of people who question Noam Chomsky's theories, but I haven't heard that. The film's going to be shown at the Linguistic Society of America's summer institute, so we'll see, maybe some people will write to me there, complaining.
Audience: How's Jesse's daughter's development with the language?
Makepeace: She's completely fluent, but she's going to school in English now, she watches tv. Her parents still speak to her almost only in Wampanoag. But even filming her it was hard to get her to speak Wampanoag because she knew I didn't speak Wampanoag. It's what I call the Heisenberg principle of documentary, just my presence changes what happens. Will she keep speaking it? I hope the immersion school is founded soon enough so that she can be in a community where Wampanoag is spoken all the time. But even Mae could lose it. We'll see.
Audience: The documents in the beginning, were they already translated?
Makepeace: There's a book called Native Writings in Massachusett in which linguists, about 15 years ago—Ives Goddard and Kathleen Bragdon—compiled all the Wampanoag documents they found, and did rough translations. But extracting from the Eliot Bible has enabled them to do finer translation of those documents and other ones that have come to light.

Audience: What happened to the children who were taken away to settle debts?
Makepeace: The indenture of children was rampant in 17th and 18th century New England, there's a statistic that is in one of the documents that in 1712, 75% of native children were living in English homes. Native people would be gotten into debt, often through I think nefarious means, and as Tobias says, the choice is that the parent goes into indenture, or the child is indentured. I think the Puritans thought they were doing these guys a favor by Christianizing them and teaching them English, but the result was that they were taken away from their culture.
Audience: I loved the animation, is that something you had in mind from the beginning?
Makepeace: No, I have never used animation in a film before, and didn't know how to make it work. But I saw Ruth Lingford's animation in a wonderful film called Secrecy. I loved what she did because it was dark and beautiful and emotional. I had in mind that I would do super 8 or 16mm abstract dreamlike recreations to represent 17th and 18th century history, because it's pre-photography. But I couldn't get enough funding to do that, and I met Ruth when I had a fellowship at the Radcliffe Institute to work on this film, and slowly convinced her to do this animation. It saved quite a bit of money, and it's much better than I could have done the way I originally conceived it. I think a key to making it work is using it right up front, so the audience is not shocked when it happens, and keeping it fairly minimist.
Audience: Were you as a New Englander taught about Native Americans growing up?
Makepeace: No, I never heard of the Wampanoag. I did spend a little bit of time on Martha's Vineyard as a teenager, so I knew there were Indians there. I was taught what most kids are taught about Thanksgiving. Indians in New England was never taught when I was a kid. This is kind of the other Thanksgiving story. I hope that every person sees it so they realize native people are among us. I think out West there's more awareness. Very few non-Indian people in the Northeast know that the native people are still with us, still here.
[Photo below courtesy of CulturalSurvival.org]
Related Film